Search results for: Marc Weissbluth - Australian Multiple Birth Association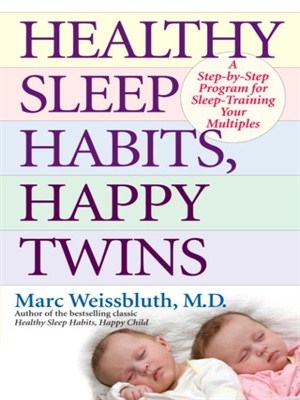 In this book, renowned paediatrician and sleep authority, Dr Marc Weissbluth combines specialised advice for parents of twins with his tried-and-true sleep-training methods to show exhausted parents how to get their babies to sleep on their own, stay asleep and sleep regularly. This essential step-by-step guide to establishing good sleep patterns reveals how to build healthy habits in twins' natural slumber cycles, including:
how healthy sleep differs from "junk" sleep
techniques of sleep training for new parents
the five ingredients of healthy sleep and why daytime sleep is different from night time sleep but equally important to good health
why it's crucial for babies to master the ability to fall asleep unassisted, without protest or crying, and how to help them do so
essential tips for synchronising your twins' sleep schedules
how to recognise early drowsy cues in your babies so you can catch the sleep wave before it turns into nervous energy that will keep them awake
HOW TO ORDER
AMBA sells a range of publications, from DVD's to books to leaflets.
View the categories or download the AMBA publications catalogue Feb 2018 to review our available publications.
Adobe Reader is required to view the catalogue. You can use this link to add this free software if it is not already on your computer.
Questions?
For more information, please contact the Publications Officer .
Information current as at 28 Nov 2019. Products are subject to availability.