Search results for: Sarah Scammell - Australian Multiple Birth Association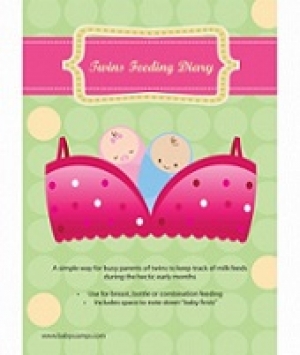 Designed by an AMBA member, the Twins Feeding Diary is an indispensable item for busy parents of infant twins. Presented in a simple and clear format, it is the perfect tool for recording your babies' milk feeds, whether you are breast, bottle or combination feeding.
Use the diary pages to jot down feeding times and other key information such as breast side, bottle quantity and nappy movements for each baby.

Record your Babies' Firsts in the inside of the front cover.

Use as a handy reference to take to Maternal Health Nurse appointments and to keep as a memento of your busy, early days with your babies.

The Twins Feeding Diary features 48 A5 sized diary pages plus cover. It is printed on FSC (Forest Stewardship Council) certified paper.
HOW TO ORDER
AMBA sells a range of publications, from DVD's to books to leaflets.
View the categories or download the AMBA publications catalogue Feb 2018 to review our available publications.
Adobe Reader is required to view the catalogue. You can use this link to add this free software if it is not already on your computer.
Questions?
For more information, please contact the Publications Officer .
Information current as at 28 Nov 2019. Products are subject to availability.